I created this page so you can easily find the products and services I use and recommend to others. Everything listed on this page are services or products I personally use or have had close friends use and enjoy when I offer them help with their finances.
You can scroll through the entire page to see the resources I use and recommend or you can click through to a specific section by using the Table of Contents below.
Please note that this page does include some affiliate links. This means I receive compensation from the product or service when you make a purchase. This does not mean you pay more for something, in fact, many times I am offering a discount code or promotion to help you save some money. Again, everything on this page is something I personally use or know about by directing friends to use.
Recommended Resources
Investing Resources
The following investing resources are products and services related to investing. Investing for your future is an important thing to do with your money and the resources listed below will help you to get to where you want to be financially.
I have vetted and recommend the below online brokers and services. Many of them I personally use.
Betterment: If you are just starting out investing, it can be overwhelming. Luckily, Betterment is here to help. You answer a few questions about your goals and set up an automatic transfer and they do the rest. They build you a low cost portfolio, invest your money, rebalance, tax loss harvest and more. You can read my in-depth review of their service or sign up by clicking here!
Wealthsimple: Another great option for investing is Wealthsimple. They are like Betterment but offer just a slightly different approach to investing. They are great for first time investors who want a little hand holding along the way. But what really sets them apart from other online brokers is their innovation. They listen to their customers and the market and introduce new products and features all the time. You can click here to learn more and to get started with Wealthsimple.
Acorns: Acorns is another online broker but this one comes with a twist. Instead of investing a set amount of money each month, like $25 or $50, Acorns takes a different approach. They round up your purchases to the nearest dollar and then transfer that spare change to your Acorns account. When your balance reaches $5, they invest the money into a portfolio you create. You can still invest in lump sums as well. This is a great option for anyone who has a tight budget. When you join Acorns, you get a $5 bonus! Click here to get started.
M1 Finance: If you want to invest in stocks and ETFs without commission, then M1 Finance is the place for you. They make investing easy by allowing you to select pre-built investment pies or you can create a completely customized portfolio. I love the option of building a dividend investing portfolio and not having to pay any trade commissions. If you want to get started with M1 Finance, click here!
Personal Capital: While I don't use Personal Capital to invest, I do use their free software to track my investments. Once I link my accounts, I see all of my account balances in one place. I also see my asset allocation, cash flow and net worth. But the best part is that I see how much fees are costing me when it comes to my investments. Trust me, it's an eye-opening experience. Personal Capital is 100% free to use, so sign up today and make sure your investments are building wealth for you.
Saving Money Resources
We all like to save money. The resources below help you do just that. Whether it is making saving automatic, earning cash back when you shop or saving money on products and services, my favorites are here.
Qapital: This is a free app that I absolutely love. It allow you to set one or more savings goals and then rounds up your purchases to the nearest dollar. It then transfers the rounded up amount from your checking account over to a savings account for you. They also allow you to take part in savings challenges to boost your savings even more. You can choose to save an extra $1 a week or even take part in the 52 week savings challenge. I've been using the app for close to 6 months and have saved over $500 already. Since it does the work for me, I save automatically. You can learn more about Qapital here.
Ebates: I love Ebates. It is a website that offers you cash back for shopping through their portal. The amounts vary by store but typically range from 1% up to 25%. Every day they have specials where you can earn double cash back and on Black Friday, they offer even more savings. It costs nothing to use, just sign up and use their portal to shop online. Once you earn cash back, they will PayPal you the money. I've earned over $2,000 cash back using Ebates. If you sign up through this link, you will receive a free $10 gift card to Target, Walmart, Kohl's or Macy's!
Swagbucks: Along the same lines of Ebates is Swagbucks. With Swagbucks, you can do many different activities to earn "swagbucks" which you can redeem for gift cards or cash through PayPal. To earn your swagbucks, you can play online games, search using their toolbar, shop online, and take surveys. It's 100% free to join and new users get $5 just for joining!
Ibotta: Do you like saving money when you shop? Who doesn't? With the Ibotta app, you are cash back for shopping. The main feature of this app is to offer cash back on grocery store products. You simply download the free app and find cash back items at the stores you shop at. After you redeem the offer and buy the item, you scan your receipt and collect the cash back. It's that simple. They also offer cash back for shopping online as well bonus to earn even greater amounts of cash back. New users get a $10 bonus after they redeem $10 in offers. You can click here to sign up.
Cricket Wireless: I use Cricket as my cell phone provider. They use AT&T lines, so my coverage is the same but I pay no where near the price. In fact, for unlimited texts and calls and 2.5GB of data a month, I pay just $40. Actually I pay $35 because of auto-pay. If you are paying over $100 a month for cell service, you are throwing money away. If you sign up for Cricket, you can get $25 towards your bill. That means you'll just pay $15 for one month (after that it goes back to $40).
Capital One 360: I've been with Capital One 360 since 2001. Back then they were ING. I started off with a savings account and now have a checking account too. They are my main bank. Everything they do is great and since it is an online bank, they offer better interest rates. I was concerned when Capital One bought ING a few years ago, but they have held to their promise of not only keeping the same philosophy of ING, but making the banking experience and offers even better. If you want to open up an account, you can use my referral code and earn a free $25 when you deposit $250. That is a 10% return on your money!
Tiller: Tiller is a spreadsheet budget that is hands down the best option out there. If you are a spreadsheet budgeter, you love the customization you have over creating your own spreadsheet budget. But you hate that the process of updating your budget it 100% manual. With Tiller, they automate the updating of new transactions. All you have to do is go in and categorize them to ensure their accuracy. You still have full control over the look and feel of your budget. Sound good? Click here to try Tiller.
Insurance Resources
Insurance is a major expense for most people. And if you stick with your current provider thinking they are giving the best rates, you are mistaken. You need to shop around to get the best rates and save money on insurance.
Below are my favorite places to get free quotes and take out insurance policies.
Liberty Mutual Insurance: Another great insurance company is Liberty Mutual. While we don't currently use them, I have in the past. Service was great and the price was competitive. I have many friends that still swear by Liberty and trust their input as they have high standards when it comes to things like this. You can get a free quote from Liberty Mutual and see how they compare to others.
eHealth Insurance: Just like it is important to shop around for the best price on your auto and homeowners insurance coverage, so too is it important when it comes to your health insurance. If you aren't covered by an employer plan, then eHealth is a resource you need to take advantage of. You can get free quotes to get an idea as to whether or not you are overpaying for coverage. You can click here to get started.
Credit Card And Debt Resources
I love using credit cards for the cash back that I earn. But it only makes sense to use credit cards when you can use them responsibly. If you have a good handle on your money, here are the credit cards I use to maximize my cash back.
American Express Blue Preferred: This is my main credit card, simply because I earn 6% cash back at grocery stores and 3% cash back at gas stations. There is an annual fee for the version that offers these high cash back amounts, but I come out ahead every year. I even make it a point to buy gift cards at the grocery store as they also qualify for the 6% cash back. And in addition to the cash back at grocery stores and gas stations, the card offers 1% cash back everywhere else. You can click here to apply.
Discover It: This is the other credit card I use. The benefit of this card is the rotating 5% cash back categories. Each quarter, there is a different way to earn 5% cash back. One quarter it is 5% cash back on gas, the next quarter it is 5% cash back at restaurants, and another quarter the cash back is at home improvement stores. The best though is the last quarter of the year is 5% cash back at Amazon. Since we do the majority of our Christmas shopping on Amazon, we get 5% cash back on all these purchases. You can click here to apply.
If you are in credit debt, then I don't recommend you look into finding the best credit cards. What you should be doing is making sure you are doing everything in your power to get out of credit card debt once and for all.
Here are the resources I've found to be most helpful at getting you out of credit card debt.
Debitize: If you like the idea of earning cash back but aren't sure you can control your spending with credit cards, say hello to Debitize. This is a new way to shop using your credit cards. The way it works is simple. You shop using your credit cards and when you buy something, Debitize will transfer that from your checking account and into a dedicated savings account. When your bill comes due at the end of the month, you have the cash to pay off your balance in full. And since the money leaves your checking account right away, you know where you stand financially which helps to limit the risk of overspending. You can click here to get started with Debitize.
Tally: Tally is another genius way to help you get out of debt. When you join Tally, they open a line of credit for you. This line of credit is used to pay down your credit card debt each month. By doing it this way, you guarantee you are never late with a payment. Additionally, Tally uses the debt avalanche method to get your out of debt. This means you pay off your highest interest debt first, saving you the most money. Understand you still make monthly payments, you just use your money to pay off the line of credit. You can click here to get started.
Credit Sesame: Knowing your credit score it critical when taking out loans. The higher your score, the lower the interest rate and the more money you save. Until recently, you had to pay for your credit score. Not any longer. You can sign up for a free account with Credit Sesame and get your credit score for free! Knowing your credit score and building it over time is one of the keys of personal finance and Credit Sesame helps you do just this.
Lastly, there is student loan debt. If you have student loan debt, you know how much of a burden this debt has on your life overall and your monthly budget. To ease the pain of your monthly payments, you should consider refinancing. Here is the best resource I know for refinancing student loan debt.
Credible: Credible makes refinancing student loans simple. You fill out the form and get rates from up to 12 different lenders. This lets you compare to see who is offering the best rate and how it compares to what you are currently paying. The best part is comparing these rates is 100% free and it won't affect your credit score! Click here to see how much money you could save.
Online Business Resources
If you are considering starting your own website, I have some help for you. These are the products I use to keep my business running smoothly.
Genesis (Studio Press): If you want to be online, you need a website. Luckily WordPress makes starting a website easy. In fact, you'd be surprised at just how many sites you visit are actually WordPress sites. But even with a site, you need theme. This is what your visitors see when they visit your website. There are many options out there including free themes. But many aren't updated and as time passes, they become vulnerable to hacks. This is why I like Genesis themes. Yes they cost money, but they are always updated and they have a large following. So as you tinker around with things, you have plenty of support. The best part – you don't need an advanced understanding of web design to build your site. Genesis makes it easy.
Big Scoots: Once you have a site, you need to find a place to host it. There are many options out there. I've tried over 5 in the short time I've been blogging. Most have had issues. One had horrible customer support. Another would constantly try to upsell me on a higher priced hosting package. Another was unreliable. In the end, I found Big Scoots. I've had zero issues with them and their customer support is incredible. I won't be going anywhere for long time if they keep amazing me like they have.
Personal Finance Books
I love writing about personal finance but I also love reading about it as well. Below are a few of the books about personal finance I love to read. I tried to keep this section short – so I am only including the books I re-read on a regular basis.
7 Investing Steps That Will Make You Wealthy: This investing book I wrote after talking to so many friends and family members about investing. I felt myself repeating the same principles over and over again. I decided to write a simple to follow book that covers all these principles so that others can benefit as well. This is a short read, but it contains the 7 most important steps to finding success and growing your wealth in the stock market. You can click here to buy on Amazon.
Live It Up Without Outliving Your Money, Paul Merriman: While this investing book doesn't get the hype other investing books do, it is by far one of my favorites. It is a super easy read and you learn about portfolio construction and how to create an investment portfolio that will be right for you. The great thing though is that you can jump around between chapters and still follow along. He even offers some sample portfolios for you to start using today. If you are serious about investing, you should consider reading this book.

Think And Grow Rich, Napoleon Hill: This book was written as self-help/motivational book back in the 1930's. The goal of the book was to help people suffering through The Great Depression get back on their feet and become successful for the first time or become successful once again. To do this, the author interviewed various successful people during that time and noted the lessons learned. Even though it was written over 80 years ago, it is still a top 10 classic and easily its lessons are easily applied to personal finance. If you want to be successful, you need to check this book out.

The Millionaire Next Door, Dr Thomas Stanley: This book is one most people turn to when they want to understand what the typical American millionaire is like. Don't be fooled by what you see on television or online or what you read in the magazines. The real millionaires in American were interviewed by Dr. Stanley and his findings were compiled into this book. If you want to learn the real eye-opening ways millionaires in the US live, and trust me, it is far from how the media portrays them, this book is a must read. You can buy it on Amazon.
The Richest Man In Babylon, George Clason: If you enjoy reading Aesop's fables and other short stories that have a timeless message, than The Richest Man In Babylon is for you. It was originally written in the 1920's as a series of pamphlets before being combined into a book. It is about a man in ancient Babylon and how he learned to handle his finances. It provides 7 timeless lessons on personal finance that will help you to better manage and handle your money. While the story is fictional, the lessons are real. You can pick this book up on Amazon.

Multiple Streams Of Income, Robert Allen: This book has its critics and while I am not a fan of everything in this book, I do like its overall message. In fact, I re-read it every few years just to relight the fire inside me for developing streams of income. The thinking goes, if you can have money coming in from various streams, like your job, investments, a side hustle, etc., you will never be reliant on one to survive. So if you lose your job, it's not the end of the world as you will still be bringing in an income from your other streams. You can find this book on Amazon.
Personal Growth And Success Books
In addition to personal finance, reading personal development and success books help me to be the best person I can be. Here are the best personal development books I've read and continually re-read.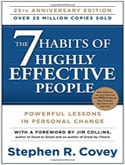 7 Habits Of Highly Effective People, Stephen Covey: While not a personal finance book specifically, this book will help you in every aspect of your life. You will better understand how you interact with people and how others interact as well. You will better understand how to communicate with different people, get your message across so that both of you get what you need. It isn't a quick read, but the time you spend reading it and learning will pay off greatly in the years to come.
The Compound Effect, Darren Hardy: This is a short yet powerful read. I was interested in it because I understand the power of compound interest, where you earn a little bit of money now, but over the long term it grows into a lot of money. This book is the same concept, only it covers your personal life. If you can make small changes in your day to day life, you can get more out of every day and reach your fullest potential. The book makes you want to take action while still reading it! You can click here to buy the book on Amazon.
The Magic of Thinking Big, David Schwartz: Are you someone who tends to look at the negative in every situation? If you would change your attitude to a more positive one, you would see extraordinary change to your life. This books shows you how to do it and explains how it works. By reading this book you will have a better outlook on life, and dare I say, be a happier person overall. You can click here to buy this book on Amazon.