THIS POST MAY CONTAIN AFFILIATE LINKS. PLEASE SEE MY DISCLOSURES FOR MORE INFORMATION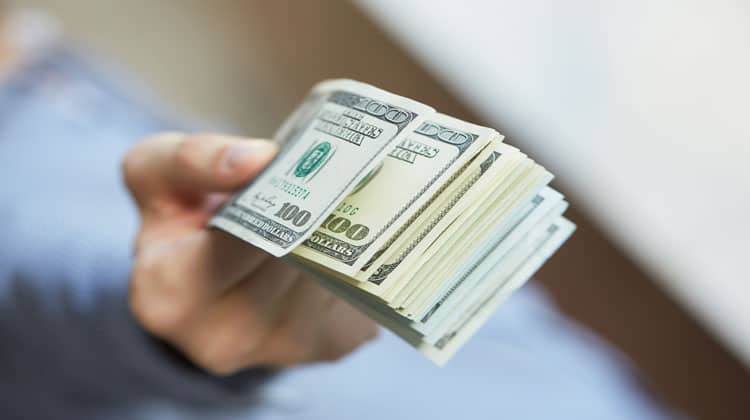 Getting by financially in college can be tough. You are focusing the majority of your time on your studies, which leaves little time to work and earn an income. If you are like most others, you tend to work in the summer and then budget your money so it lasts all school year. This was what I did for the first 2 years of college. But then my junior year I moved in with a guy (who is now my best friend) and we found various ways to make money in college.
Below I will talk a little about our adventures and provide you with 11 ways to make money in college starting today. All of these tips are easy to do, so just pick your favorite and watch the money come pouring in.
Let's get started!
2 Ways I Made Money In College
Since I went to college about 15 years ago, I wanted to share my experience with the ways to make money in college. Here are the 2 biggest money makers for me at the time.
#1. Work Study
I did work study for my first 2 years in college. It was far from a living salary. I was limited to 10 hours a week and was paid minimum wage, which at the time was $5.15. Every two weeks I had about $90 deposited into my checking account. While it wasn't much, working in the library was easy with lots of socializing, so I can't complain.
#2. eBay
Back when I was in college, eBay was bursting onto the scene. You could make money selling anything on the site. My friend and I used various methods to make money on eBay:
Garage/Yard Sales: We'd hit up these sales and buy things to resell. Back then it was hard to find valuable products to sell. No smartphones meant no checking on how popular things were while at the yard sale. You instead had to take calculated risks. I bought things I thought would easily sell, like some Life Magazines with JFK on the cover for example. I did take some risks buying very low cost items too and surprisingly I was able to turn a profit.
CD Services: Before Napster, people actually bought CDs. With the explosion in pop music (think Britney and Backstreet Boys) we would sign up, get a bunch of CDs for $0.01 and resell them for $10 apiece.
Gaming Websites: There used to be a website that allowed you to play games and win tokens. You could cash the tokens in for prizes or cash. In the slow age of dial up internet, I stumbled upon a glitch. If I hit the submit button 10 times after winning, I would earn 10 times the tokens. I'd like to think we single handedly ran the company out of business. At first we took prizes and resold them, but eventually we just took the cash option.
In all, we made a decent sum of money. It helped us to afford pizzas and gas to drive around, and of course, beer. But like I said in the beginning, these won't all work for you. The CD option is dead and so is the gaming website. Even if there are others around, you can't make a quick profit like we did simply because of high speed internet. As for eBay, there is still a chance, but it's not as easy.
So what can you do?
Here are 11 great ways to make money in college today.
11 Ways To Make Money In College
Below are 11 ways to make money in college. Not all will apply to you, but you should get some ideas to tackle here.
#1. Work Study
Work study still exists and can be an easy option to make a few dollars. The minimum wage has increased since I was in college, so you'd at least be earning more than I was. The only downside is that you are limited in how much money you can actually make.
#2. eBay
This is still a possibility. With a smartphone, you have an assistant too. Simply pick an area that you are familiar with, electronics, video games, etc. and then go online and see if these types of products are selling. If so, make note of the hot sellers. Then head out to yard and garage sales and see if you can find the items. If you find other things, look their value up on your phone.
You should also look into alternatives to eBay too and see if they are better options for selling goods.
#3. Donate Plasma
You can make some decent money donating your plasma. I had friends in college that did this twice a month and would walk away with close to $200. Of course, if you are deathly afraid of needles, this probably isn't a great option.
#4. Fiverr
You can sign up on this site and sell your talent. Can you edit videos? Write articles quickly? Do voice over work? Have a ton of social media followers? You would be surprised at all the gigs on Fiverr. If I can find a way to sell my talent on the site, you can too.
You can get this great resource and learn how to make over $1,000 a month on Fiverr.
#5. Virtual Assistant
Tied to the above is becoming a virtual assistant. Many freelancers and blog owners could use someone to help them out. You won't be doing anything glamorous, but work is work. You might be scheduling posts, submitting posts to social media, leaving comments, etc. You can even post your skills here so that people looking to hire can find you.
#6. Part Time Job
There is always the option of getting a part time job too. Just make sure that you lay everything on the table when you are being interviewed. This means telling the prospective employer that you are a college student and will be going home certain times of the year. The best time to get a part time job is over Christmas break since most retailers hire extra staff for the busy season.
I was lucky to find a great part time job washing cars. They were fine with me going home for break and even skipping a day here and there when I had finals to study for. It's much better to let them know up front. Your honesty will go a long way.
#7. Work For The Maintenance Department
I went to college in a very snowy climate. Every year, the college would send out a memo for students to help the maintenance department clear snow. You would shovel sidewalks and pathways so students could get to class. At the time, it paid $10 per hour.
#8. Shovel/Mow Lawns
If your college is in a small town, you might be able to shovel nearby residents driveways in the winter or mow their lawn in the late fall/early spring. Charging $10-$15 an hour could net you some decent money.
#9. Become A Taxi Driver
You could use the new taxi services like Uber, or you could just offer to drive other students around. Everyone needs to get to the mall or grocery store once in a while (unless you grocery shop online), or even to the airport or bus station. You can charge a small fee and drive people around.
The only downside is the cost. College students might not have a lot of cash to pay you and you will incur wear and tear on your car. Of course, if you were planning on going to the grocery store or the mall anyways, any money you make would be a bonus.
#10. Tutor
If you are good in a certain subject, you can easily offer tutoring services. Even though the above could apply of other students not having much money, I'm sure if they explained to their parents the benefits of a tutor they would have the money. You can put up flyers around campus and let professors in the field know about your services to tell prospective students.
#11. Play Music Gigs
My one friend in college played the violin and teamed up with a few other students and formed a string quartet. They advertised their services and soon, were getting tons of referrals. They would play weddings, holiday parties, business events, etc. They made $100 an hour (per person, not in total). In fact, my friend still does this today to supplement his income.
Bonus Tip: Moving Services
Every fall, students move into dorms or apartments and every spring they move out. You can help them out for a small fee. Many students would be grateful for the help.
Bonus Tip: Dumpster Diving
If you are really ambitious, you can check out the dumpsters on campus at the end of the year. Many college students throw away items in good condition simply because they don't want to pack it or take it home. You can easily salvage these items and resell them on Craigslist for a handsome profit.
If you don't want to dumpster dive, simply make it known that before items are thrown out, they should contact you. I made some money taking textbooks that others were tossing in the trash. Why they didn't sell them back, I have no idea.
Bonus Tip: Start A Blog
If you have an interest in a certain topic, why not start a blog? You can make good money from this and have fun at the same time! Take me for example. I enjoy writing about personal finance. While I blogged on the side for a few years, I am now full-time. It never feels like work since I am doing what I enjoy.
And don't be scared off if you don't like writing that much. I never did but because I am writing about something that interests me, I enjoy it.
To get started, you want to figure out your niche and then get hosting and your domain. From there it is all about writing great content and connecting with others in your niche. How do you connect with others? For personal finance, I use lists like this one. It tells me who the big guys are in the niche and I can concentrate on helping them and getting to know them.
If you are in another niche, I am sure there are similar lists to help you get started.
You can check out this post for a complete guide to starting a blog. You can also look at my resources page to see the services I recommend for bloggers.
Final Thots
There are 14 ways to make money in college. At the end of the day, it all comes down to your effort. There are endless ways to make money in college. You just have to keep your eyes open for opportunity and think outside the box.
My friend and I stumbled upon the idea of selling CDs online. It was a simple idea that made us a decent amount of money. So what are you waiting for? Start thinking of ways to make money in college!
Readers, what are some ways to make money in college you can think of or have done?