THIS POST MAY CONTAIN AFFILIATE LINKS. PLEASE SEE MY DISCLOSURES FOR MORE INFORMATION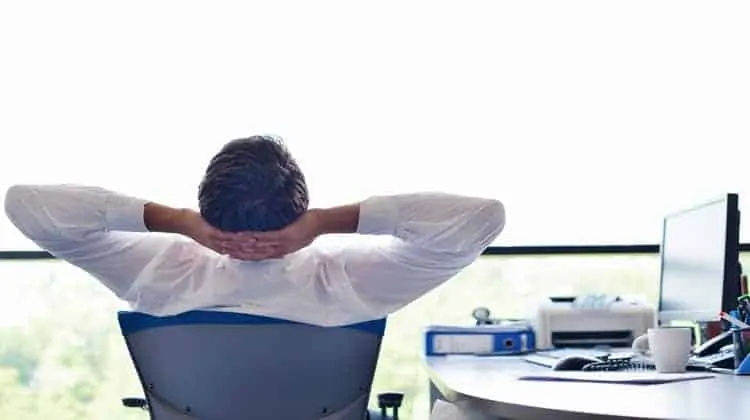 It's tough being an employee these days.
As much as technology has managed to make our lives more efficient, productive and enjoyable, the cost of progress may be impacting our health in a way we could have never imagined.
Advances in technology didn't remove the pressures of tight deadlines, demanding and grumpy bosses, gossiping employees, or help with to-do lists that grow by the hour.
Couple this with the demands of maintaining a gratifying personal life and it's no wonder we slam the snooze button twice before rolling out of bed.
Long gone are the days when we were passionate about work.
However, technology is not the demon some may make it out to be even if we do text more than we talk. It has indeed made our lives more comfortable, but at what cost?
Asana, Outlook, Slack, Trello, and Zoom allow us to communicate with each other quicker and across multiple time zones. Such tools have also allowed is for employee disengagement.
Yes, we can take more control of our environment with these tools, but they continue to fall short of the increasing demands of work and do not appear to reduce stress even though they are often sold as the answer to the majority of operational problems in the workplace.
Could there be a missing element we've overlooked when we stopped, or drastically reduced, the knee-to-knee, eyeball-to-eyeball type of interaction that was all too common in recent history?
When nurturing interpersonal relationships in the workplace is an afterthought or not respected as a valuable component of workplace wellness, employees eventually shut down.
Being passionate about our jobs all but disintegrates.
It's no wonder that employees complain of being stressed, bored, tired, and lacking a general excitement towards work.
We wake up every Monday and go through the motions for five straight days without really investing ourselves emotionally in an environment where we spend 1/3 of our lives.
A 2017 report, published by the American Psychological Association, cited work stress among the top stressors experienced by Americans. It accounted for 61% of reported stress.
Unfortunately, the needle hadn't moved much over the last decade. Study respondents reported losing sleep, being anxious or nervous, feeling irritable, anger or fatigue due to stress.
This is not a pretty picture. At the end of our work lives, how will we remember this time?
Without a change, we will likely question why we put up with such an environment that failed to motivate us to live our best lives.
Your Guide To Finding Passion At Work
Is It Too Late To Become Passionate About Work?
In reality, it doesn't have to be this way.
You are in control. The control lies in your ability to make a change. We're not talking about changing jobs.
If you are unhappy where you are now, and it's not about the money, then switching locations of your unhappiness is not going to solve your problem.
You have control over how engaged you are in the workplace. The more engaged, the happier and healthier you'll be.
Yes, it may sound counter-intuitive but by becoming more involved with work, the less stress you're likely to feel.
Imagine looking forward to Mondays again, coming up with new ideas because you want to, not because you have to impress your boss, or making a difference at work that aligns with your purpose.
This can be your new reality. It all starts with choosing to become engaged.
Let's look at some of the changes that you can make over the next few weeks that can turn your lackluster job into a place that you relish.
Yes, it's possible to become passionate about work again.
The last thing you want is to avoid waking up 40 years from now regretting your work life.
Improve Your Health By Becoming An Engaged Employee
Making this change does not mean signing up for special committees, working more hours or putting on a fake smile. In fact, becoming more engaged begins with building positive interpersonal relationships with coworkers. A natural outcome is a reduction in stress levels and improved health.
What Is Employee Engagement?
Still not sure what it means to be "engaged"? A Gallup Management Journal study defined engaged employees as those who "…work with passion and feel a profound connection to their company."
The study found that a whopping 62% of engaged employees felt their work lives positively affected their physical health.
Not so much with not-engaged employees or those who considered themselves actively disengaged.
Employee Engagement Activities That Work
Unsure of where to begin being passionate about work again? Select one or more activities from the list below and commit to taking the first step to improving your health and well-being.
Each activity ignites the flame, so you can become passionate about work despite your current circumstances.
#1. Have A Work Friend
Having a friend whom you can confide is critical. Only a workplace friend understands the challenges at your job.
Are you a loner at work? Ask someone outside of your department to lunch.
Yes, this can be a bit awkward at first, but it'll be worth it. Let this person know that you'd like to partner on a project. And then, partner on the project.
#2. De-friend Poison Relationships
End non-essential time with negative co-workers. Nix happy hours and lunch breaks with constant complainers. Let misery find company elsewhere.
#3. Sign Up For An Office Challenge Or Create One
Office challenges can be work or health-related. Examples include Fitbit Step Challenges, financial fundraising for local causes, holiday toy drives, animal shelter volunteer hours, etc.
The key is to make it fun and focus the challenge on a cause you feel strongly about.
#4. Become A Work Mentor
Did the company recently hire a fresh out of college receptionist?
Strike up a conversation. Offer her the opportunity to shadow you for 30 minutes before work or during lunch for the next few months.
Be the person you wish you had when you first started working there.
You'll quickly realize that helping others makes you feel good inside and helps to spur you towards finding passion at work.
#5. Participate In Your Company's Wellness Program
Employer-sponsored wellness programs are on the rise.
Many employers are beginning to understand the connection between increased employee wellness and decreased healthcare costs.
Such programs not only benefit the employer, but employees see their benefits as well.
Results from The Business of Healthy Employees Survey, performed by VirginPulse, found 85% of surveyed workers credited stress management as a critical factor when deciding to participate in a wellness program.
Health and wellness programs indirectly encourage employees to become passionate about work by supporting efforts related to nutrition and weight management, smoking cessation, fitness, overcoming alcohol and drug abuse, stress management, and health education.
Work for an employer who hasn't heard about the benefits of wellness programs for its bottom line?
Partner with two or more co-workers to make the case. Wellness programs can be low-cost initiatives that encourage interpersonal relationship building or solo opportunities to decompress.
When Lack Of Engagement Is An Indicator of Something Deeper
Active disengagement at work may sometimes be necessary for self-preservation if you work in a toxic environment.
If this is the case, it might be time to consider other employment opportunities.
Here are several reasons why you should seriously consider seeking employment elsewhere and not try and resolve it with the recommendations from above:
Your boss is verbally abusive
Another employee takes credit for your work repeatedly despite your complaints to management
Management uses intimidation or fear to control its employees
Interoffice romances have resulted in unfair treatment of employees
Your ideas are laughed at during staff meetings
You cry at work (or home) because of work
You haven't been able to focus at work for at least six months, and it's affecting your job performance
Your self-esteem has been in the tank for the past year due to the negative feedback you receive from management
You're continually bypassed for raises and/or promotions
You've pitched new ideas and a better way of doing things and are quickly dismissed or not taken seriously
Wrapping Up
Employee engagement is the one workplace change that improves health.
Positive, supportive interpersonal work relationships coupled with participation in a robust employer-sponsored wellness program is a prescription for improved health that no one could argue.
I have a feeling that your co-workers and boss will be happy to see that you're passionate about work again.
When you're in the middle of a bad situation it may seem like the last thing you want to do is make an effort.
Resist the pull to maintain the status quo. If you do, nothing changes, and the stress will eventually impact your health.
Some of the suggestions I mentioned may sound overwhelming, but I urge you to try at least one. If you do, I believe that you will be a happier, healthier engaged employee.