THIS POST MAY CONTAIN AFFILIATE LINKS. PLEASE SEE MY DISCLOSURES FOR MORE INFORMATION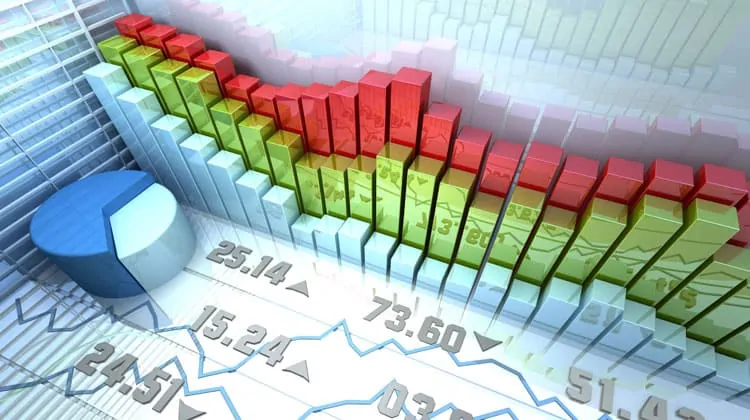 To become a successful day trader, you should have a clearly defined strategy on where you want to get and what approach you will take.
But be careful.
There are so many day trading related products out there because a lot of money is to be made selling the dream of making money day trading.
Make sure to start your project with the right mindset.
I have put together the 5 most important day trading rules you should take into account before you start.
5 Critical Day Trading Rules You Have To Follow
#1: A Positive Mindset Is Important
The biggest driver of whether or not a day trader is profitable comes from their mindset.
Day trading is based on technical analysis and most traders can grasp technical analysis with a little bit of effort.
For example, there are plenty of people out there who trade just candlesticks like hammers and shooting stars to great effect.
It doesn't take much to figure out what these candlesticks look like.
And it is simple to come up with a couple of basic rules to trade them.
The question is whether or not you trust the system well enough to take the trade and let it run.
That is where most of the trouble comes.
Day traders tend to move from one day trading strategy to another within days.
Don't do that!
To become profitable, you will need a long learning phase. Be prepared to invest at least 12 months of education.
You must understand what you're doing, understand what works well for you, and stick to that.
Trust in you! You must be confident in what you are doing, and then you can scale up from there.
That is one of the big secrets to some of the most successful proprietary traders on Wall Street.
#2: Modern Trading Tools Make Things Easier
There is a world of trading tools out there that you can get involved with, such as charting tools and stock screeners that monitor the market based on your preferences.
There are also stock picking services that send signals to your phone, trading educators and pretty much more services than you can think of.
After all, there's a lot of money to be made selling the "holy grail" of trading.
That being said, you shouldn't ignore all tools, but keep in mind that you should only use the ones that make sense to you.
You should also avoid subscribing to services that do not offer money back guarantees or free trials.
No matter what tool or service you are planning to use, always check if there is a free version that will work for you.
For example, a free stock chat room, where you can chat and interact with other day traders around the globe, or a 14-day free trial for a charting tool.
And be consistent and cancel your subscription if the trial period shows you that this product is not for you.
#3: Trade Automation Is The Future
Trade automation is something that a lot of traders are starting to work with.
Depending on the platform you are using, you may be able to load up something like a trading rule script in C# that will buy or sell based upon a specific set of parameters and filters.
This can be an excellent way to day trade. At least if you backtest your trading system and make sure that it works before you go live.
If you are trading currencies, there are a world of both free and paid so-called "expert advisors" which are essentially the same thing.
If there is a set of variables fulfilled, it will simply buy or sell the pair based upon those factors.
Trade automation is something that people are starting to use more from both an institutional and retail standpoint
But you should keep in mind that even if it is automated, there needs to be some type of human interaction.
For example, think of it very much like a pilot as there is an autopilot, but somebody needs to be able to observe and react if the situation is a bit more complex than the machine can handle.
One typical example would be something like the Nonfarm Payroll announcement throwing the markets into disarray.
While it may fulfill some of the variables for the automated trading system, the automated trading system won't understand that it was news related.
That could get you into trades that you don't want to be in.
This is why human intervention is necessary.
#4: Invest In Your Education Before You Start
Education is crucial, and one of the more contentious parts of trading. After all, there is a lot of money to be made in telling people what to do when it comes to trading.
It doesn't take much to put together a website that looks professional and put together a lot of "after-the-fact" analysis.
While there are excellent educational schools out there, the reality is that there is no substitute for screen time.
Screen time is the time where you sit in front of your day trading computer and where you learn by just doing it.
Preferable with a paper trading account once you trade new strategies.
There are plenty of free educational sites online like Stockcharts.com that will give you basic technical analysis information, and some are quite good.
While trading is a business and most certainly education is a crucial part of it, it doesn't have to cost you a fortune.
The question is whether or not you are willing to put in the work to become a profitable trader.
Remember, you don't have to reinvent the wheel, you simply need to find something that works for you.
For example, you may be an excellent scalper on the five-minute chart, while your best friend might be one of the best swing traders you know who uses the weekly chart.
If you both make money, that's the end of the conversation. It's the only thing that matters.
That being said, the most important thing is that something works for you. If a particular type of educational course works for you, that's all that matters.
If you end up paying for it, that's fine as long as it falls within your budget.
However, the dirty secret is that there really isn't anything new out there, regardless of what marketers will tell you.
The biggest weapon in your arsenal will come from within.
If should you decide upon a fee-based provider, then make sure that he can provide a verifiable track record and account statements.
As you can read in this comprehensive Warrior Trading Review, Ross Cameron's trading education service makes the account statements available to the public.
This brings us to the next point.
#5: Keep The Overall Cost Low
One of the biggest concerns that a new trader will run into are the costs and capital requirements involved.
There are a multitude of costs that come into play, not the least of which would be for the trade execution.
Furthermore, most people think that day trading is the perfect investment style for people with low capital.
That's because tons of advertisements suggest that.
But the opposite is true.
In 2011 the SEC came up with the margin rules for day trading. I recommend you to read the linked pdf in detail.
There you find all you have to know about the day trading rules under $25,000.
The most important fact is that you cannot effectively day trade with less than $25,000 in your account.
At least if your brokerage account is held in the United States.
There are only two notable workarounds:
#1. Open an account outside the United States to day trade with less than $25,000
#2. Execute less than four day trades within five business days to avoid being classified as "pattern day trader"
In my opinion, both workarounds are risky.
The SEC rules are there to protect you. Day trading is challenging, and without knowing what you are doing, you can quickly lose all your money.
Wrapping Up
Day trading can be a great addition to your conservative investment styles.
However, day trading should never be considered having low liquid capital.
The reason is simple.
Trading education and trading tool subscriptions cost a lot of money, and in the first few months, you will probably have a hard time to get on track.
Finally here is a bonus day trading rule for you. Never trade with real money until you are good enough to make money.
Always start with a paper trading account.
A lot of brokerages offer such functionalities.
Even paying $100 per month for a separate trading tool with a paper trading functionality is a good investment.
It protects you and your money from any harm.
I know, you might feel in a rush, but day trading profits do not come overnight.
Day traders are usually very well-funded and perfectly-educated. Make sure you are, too.
About the author: Alexander writes at daytradingz.com, an investment blog that helps aspiring day traders to make the right decisions right from the beginning.