THIS POST MAY CONTAIN AFFILIATE LINKS. PLEASE SEE MY DISCLOSURES FOR MORE INFORMATION
Here is a little secret.
Personal finance isn't just about budgeting and managing your money.
I know. Your jaw just it the floor, didn't it?
The truth is, personal finance is about a couple stages of our financial life, not just about getting us out of debt and saving money and it ends there.
Personal finance is about personal finances. All of them. That means that you should have the opportunity to break up your financial life into two main phases.
The first phase is the phase where you get out of debt, stop spending more than you make, set a budget and build up a basic emergency fund. There is lots of coverage about that, since there are a lot of people who are in the first phase of "grown-up" financial decisions, or need to be.
The second phase is the phase that many people miss out upon, or try to do without going through the first phase, which sets them back. This phase is the wealth-building phase, where people and families save and invest for retirement, college and other long-term goals.
You will find in your research about personal finance tools, that the majority of the apps, programs and websites that have to do with personal finance will favor the first phase of a financial life, and not as many focus on the second phase. Just look at my resources page for proof of this.
Much of the second phase, the investment piece, is promoted through do-it-yourself investing platforms like Wealthsimple, Betterment and Charles Schwab.
However, I want to review one of those rare services that actually cover both phases of personal finance, and has an emphasis on the second phase, and does so with a variety of free tools.
This service is called Personal Capital.
Personal Capital Defined
Personal Capital is a personal finance tool that actually has both phases of personal finance. One is a free system that helps you track your household finances, and the second being a paid investment advisory service. The free part covers budgeting, managing debts and checking your net worth and providing real-time updates of your various accounts.
The paid service provides algorithms and human financial advisors to help you manage your investment portfolio to help grow your wealth for the long term.
Personal Capital is available via its website or via mobile apps for iOS, Android and Apple Watch though some features will be available on some versions but not on others (though regular updates are improving the service).
Here is a quick breakdown of many of these differences.
As there are free and paid parts of this program, we'll take each of them one at a time, starting with the free service that helps you get through the first phase of your personal finance life.
Budgeting Your Personal Capital
The first phase of personal finance is covered by Personal Capital's free service, which has several features that will help you keep track of all of your accounts, as well as tracking your budget and your spending. Here is a brief overview of the services.
For starters, the service syncs with all of your bank accounts (checking, savings, credit card, mortgage, investments) and puts them all in one place so they are easy to track. They provide real-time updating as you deposit and withdraw funds.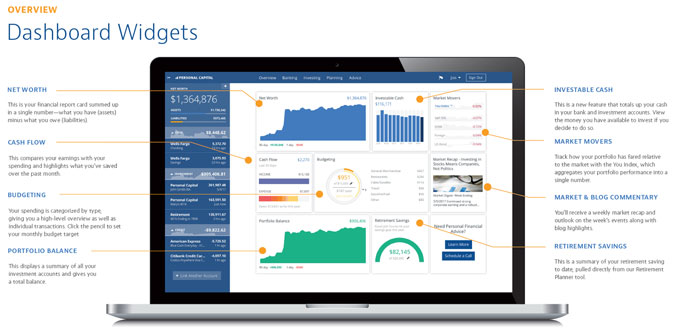 There are several tools that are available with this free service, including a budgeting application, which can be set up monthly, quarterly, or yearly. In other words, basically whatever you want.
There is also a handy Retirement Planner feature, where you can check your progress toward investing for retirement. You can set a goal for your nest egg, and based on the updated information about your accounts, the application can tell you where you are and what adjustment it might suggest in case you fall behind.
The service can also provide you e-mail notices about your spending and investments, can send you alerts on any bills that are coming due, and you can check on your asset allocation in your investment portfolio with an Asset Allocation Target application along with an Investment Checkup tool.
There is even a tool called a 401k Fee Analyzer, which tells you how much of your investment money is being lost to fees. You will be surprised how much those fees can be, as they can pile up behind the scenes, and you don't see it without this tool.
If you feel as though you could benefit from these free services, you can click here to open up your account.
Personal Capital Security
In this day and age of security breaches, you need to make certain that services you use are taking every precaution to protect your personal information.
Luckily, Personal Capital takes security seriously. Here are the steps they take to protect your information.
Secure Authentication. We use two-factor authentication when you sign in to our site, (1) verifying your password and (2) identifying the computer you're using. If someone steals your password and tried to use it from a different computer, they cannot get in. When you sign in from a different computer, we use an "out-of-band" verification to your email or your phone to make sure it's really you.

Firewalls and Perimeter Security. Our data centers are protected with numerous perimeter and internal systems designed to prevent penetration and monitor for suspicious activity. These data centers operate under stringent financial and international security standards, including payment card industry compliance (PCI DSS Level 1) and ISO 27001 certification, placing information security under explicit management control.

Data Encryption. We encrypt your credentials and personal data with military-grade encryption algorithms – 256-bit AES, to be specific. Even if someone could penetrate the data center, your data would remain secure.

Continuous Monitoring. And not only do we persistently monitor activity, we let you do so as well. We'll send you a daily email containing every transaction during the last 24 hours in all your linked accounts – bank, broker and credit card accounts. Every morning just take a quick peek and confirm that all the activity was yours. It's a great way to catch any problems – like bogus credit card charges – right away.
Investing Your Personal Capital
While Personal Capital already has more free money-management tools than most free services, many investors will benefit if you pay for the second-phase personal-finance service, which is the investment advisory service.
Personal Capital is actually a Registered Investment Advisor (RIA) through FINRA and the U.S. Securities and Exchange Commission (SEC).
The service not only uses an investment algorithm to determine some portfolio suggestions based on your risk tolerance and goals, but there is also a team of human financial advisors who can guide you through the investments and provide any support when you need it.
The caveat is that you must have at least $100,000 in order to open an investment account on the pay side of the service. Each account gets input from a team of advisors, as well as the algorithm. If you have an account worth at least $200,000, your account will get two dedicated advisors assigned to your account to help you manage it.
The service provides automated rebalancing of your portfolio, which can be triggered if your account crosses certain allocation thresholds (such as your mid-cap equities value passes 20 % of the portfolio value, for example), plus there are several tools that sets this service heads-and-shoulders above many of the other investment platforms.
Personal Capital boasts an initial account-management fee of about 0.89% per year based on the balance of all your assets under management. This is a bit pricey, but you are under no obligation to use their services. You could simply choose to use the free tools that Personal Capital offers.
As your balance grows, the fee you pay drops. Below is the current fee structure.
First $1 Million: 0.89%
First $3 Million: 0.79%
Next $2 Million: 0.69%
Next $5 Million: 0.59%
Over $10 Million: 0.49%
In other words, this is a robust service for investors, but it's not necessarily for an average investor because of the high initial investment. But if you have that much in an account you could roll over, then this can certainly be a good option for a place to park your new account.
The investing service of Personal Capital has several interesting features, including the ability to support virtually any and all investments accounts, including Traditional and Roth IRAs, 503 and 527 plans, 529 college plans, and even trusts.
There is a Smart Indexing feature, which utilizes current best-practices in portfolio theory and sector weighting to develop a technically sound asset allocation, and another feature that can help you mitigate tax losses in taxable accounts, plus professional advice regarding your 401(k) and 529 plans (just advice, it cannot manage the portfolios for you).
There is also a feature where you may minimize annual fees by directly investing in stocks instead of working through an ETF. It's more risky, but if you know what you're doing it could be valuable.
Bottom Line: Pros And Cons
There is a lot to like about Personal Capital. The fact that is can be a one-stop shop or all aspects of personal finance, from debt-reduction and budgeting all the way to wealth building. It has an easy-to-use interface, the service is comprehensive and the technology is quite versatile in that it can be used on a desktop or laptop, tablet or smartphone, which means you can always have an eye on everything.
The tools that are available are robust, even on the free side, and the investment advisor services are among the best you will find from an online platform.
The only thing that I've found negative is that the management fees are a bit high compared to other platforms, and there is a high entrance threshold (other platforms may require $10,000 or less to open an account, and those management fees can often be one-third of Personal Capital's).
If you tend to be very hands-on with your investing and don't need a lot of advice, then you could be better off with another platform.
This platform is more for those who are hands-off, no-muss, no-fuss investors who trust professionals. Even then an option like Betterment or Wealthsimple will cost you less and might be as good of a fit.
Final Thots
I have a hard time not recommending Personal Capital, even if just for the budgeting and cash-flow tools on the free side of the service. In fact, this is what I use Personal Capital for. It helps me to see all of my investment accounts in one place, has a powerful report to help me make certain I am allocated correctly, and the Retirement Planning tool helps my wife and I stay on course for reaching retirement.
The bottom line is that it is simple to use and it works. I feel as though we are in better financial shape with our investments and retirement planning thanks to Personal Capital.
If you want to give Personal Capital a try for free, click here.