THIS POST MAY CONTAIN AFFILIATE LINKS. PLEASE SEE MY DISCLOSURES FOR MORE INFORMATION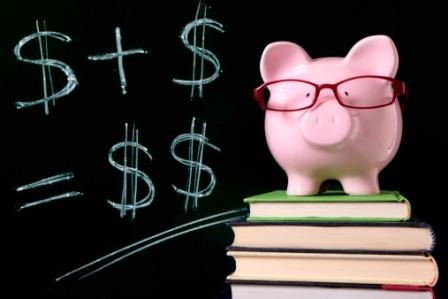 There are two types of people in the world: the ones who jump into the pool without hesitation and those who test the water first and slowly make their way in in increments. This same example can be used with investing. You can either invest all at once (lump sum investing) or slowly over time (dollar cost averaging). The question is: is one better than the other? The answer is….whatever you decide is best for you is the right choice.
Dollar Cost Averaging
Dollar cost averaging or DCA is a process that allows you to invest a small amount of money each month into an investment. This process is a way to take the emotions out of investing. By purchasing more shares each month you are guaranteeing that you buy low. Here's how:
Each month you invest $100 into Fund ABC for 5 months. The share price each month is $25, $20, $22, $25, $30. As a result, you bought 4 shares the first month, 5 shares the second, 4.5 the third, 4 the fourth and 3.3 the fifth. You bought more shares when the price was low and less when the price was high. Additionally, your average cost of these shares is $23.95. The average share price over the past five months is $24.40. This means that your share cost is lower than the average share price meaning you increased your gain by $0.45. While this doesn't seem like much, understand that this example only covers a five month period.
Lump Sum
Lump sum investing is just that: you invest everything at once. The theory behind this is that since markets tend to move in an upward direction, investing all of your money now allows it to grow more than if you slowly buy more shares as time goes on. This theory holds true when markets are moving up, but not so much when markets are dropping.
Which is Better?
I advise that people go with dollar cost averaging. The reasons are numerous. First, it allows you to invest with very little money. Many low cost mutual funds allow a lower initial investment is you set up an automatic purchase plan. The monthly amount can be as little as $50 and can even be quarterly as opposed to monthly.
Secondly, it takes emotions out of investing. The biggest mistake people make with investing is making rash decisions based on emotions. By dollar cost averaging, you take emotions out of the equation.
You cannot time the market. With dollar cost averaging, you don't have to worry about if now is a good time to invest. Since you are continuously investing, it is always a good time to invest.
Even with these reasons, you may think that lump sum investing is better for you. And that is fine. Whatever makes you invest and save for your future is fine with me. I just want to get people thinking about their long term futures instead of the next five minutes.