THIS POST MAY CONTAIN AFFILIATE LINKS. PLEASE SEE MY DISCLOSURES FOR MORE INFORMATION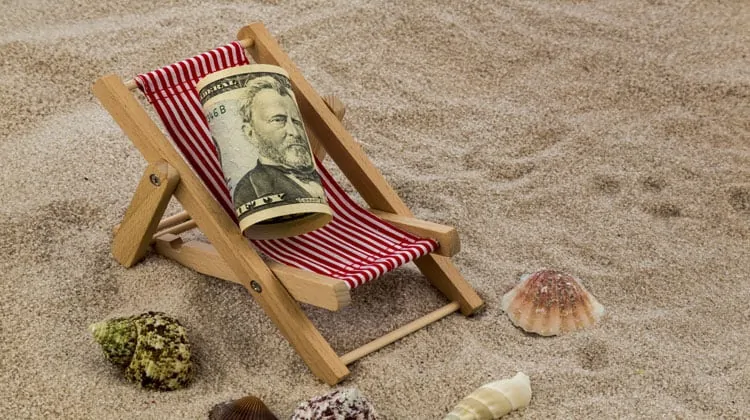 Travel is often considered a luxury. Between the cost of airline tickets, accommodations, and eating out, costs do tend to add up, and quickly!
But savvy travelers know they can make every dollar stretch just a little further with a few low cost travel tips and tricks. In fact there are many ways for how to travel cheaply.
We've weeded through all of the ways to travel and found the best tips to vacation on a budget.
In this post, you'll find the 4 best ways to travel cheaply and still get the most out of your vacation!
4 Tips For How to Travel Cheaply
Save On Air Travel
Depending on where you're headed, the largest purchase you make might be the first one, an airplane ticket.
Flights in and around the continental U.S. are often more affordable, comparatively speaking, than travel to other countries and continents.
But purchasing more than one ticket to anywhere adds up quickly.
Fortunately, there are ways to save on airfare and travel cheaply.
The first is to sign up for frequent traveler programs with your favorite airlines and start earning miles to use toward free travel.
You can do this by signing up for the best rewards credit card for travel that works for your spending habits, using that card for everyday purchases, and even by taking surveys.
Peruse and compare different cards to learn about all the ways you can earn points and miles. If you live close to an airport that is dominated by one airline, consider what options they offer.
Alternatively, consider a credit card that lets you transfer your points and miles to other airlines.
Some airlines allow you to book domestic award flights for as little 7,000 points for a one-way trip, so start earning!
Next, sign up for emails from airlines that travel to your intended destinations. If you do, you'll get alerted when there are sales and specials going on so you can book that trip for less.
It's also not a bad idea to sign up for alerts and emails from travel websites and flight search engines that let you select preferred departure cities and/or destinations.
They will email you a list daily or weekly with the best deals so you can travel cheaply.
However, flying with the airline is only one way to earn points and miles quickly.
Using cards like the Chase Sapphire Preferred or the Capital One Venture that let you earn for each and every purchase you make on the card can help you earn points and miles rapidly.
Save On Luggage
Related to finding cheap airfare is saving on checked luggage. Many airlines flying internationally offer at least one free item of checked luggage, but not all.
WOW air, for example, does not. So in order to vacation on a budget, you may want to consider packing light.
After all, one extra checked bag can cost upwards of $50 (though the average is more like $25-$30).
So to make your money go further, check luggage restrictions before you fly and see if you can stay within the free luggage restrictions.
For some airlines, that means you'll still get a rolling carry-on. For others, like Frontier or Allegiant, you'll only be allowed a personal item.
That equates to a book bag or tote. But with a little creative planning and expert packing, even a personal item is doable for many travelers.
Save On Accommodations
If airline tickets aren't the most costly part of travel, accommodations are.
One night at a nice hotel can easily cost over $150, depending on where you're headed. It can easily be double or triple that if it's a luxury hotel or in a prime location.
But just like with plane tickets, there are clever ways to travel cheaply when booking overnight stays.
Just like airlines, hotels have loyalty and frequent traveler programs. Some even offer perks like free water, wifi, or in-room purchase discounts just for joining, so it seems silly not to!
Just like with airlines, many hotel chains like SPG and Hilton offer travel reward credit cards with stellar sign-up bonuses that help you earn free nights fast.
However, if you're not married to the idea of staying in a hotel, give Airbnb a try. It provides a different experience, but there are rooms for every type of budget.
You'll find everything from inexpensive private rooms in a larger house, to mother-in-law suites, to entire homes.
You'll often find options for much cheaper than hotel rooms.
Plus, they often come with the benefit of free parking, which is a definite plus for resort areas that charge per day just to park your car.
Save On Dining
When traveling, we tend to like to treat ourselves by going out for most of our meals. After all, not having to cook is sort of like a vacation in and of itself!
But dinner bills add up fast over a few days, especially if you're also eating out for breakfast, lunch, and/or mid-day snacks. But dining out doesn't mean you can't travel cheaply.
When planning meals out, keep in mind that at many restaurants, especially more refined establishments, dinner is more expensive than lunch.
You can make your money go further by making your main meal lunch instead of dinner where you can get more for less.
If your accommodation offers a free breakfast, take advantage of that for a cheap start to your day and an easy way to save you money.
Alternatively, go grocery shopping instead of dining out for every meal.
You'll get an authentic experience of how the locals live and shop and simultaneously stock your fridge or pantry with money-saving ingredients.
Even most basic hotel rooms have a mini-fridge, which means you can keep muesli and milk, fresh fruit, and all kinds of snack foods on hand for simple meals.
If you have a kitchen at your disposal, preparing at least one meal a day in your room with cheap grocery staples can save $10-$20 per person per day!
Wrapping Up
You too can travel cheaply with these tips and travel hacking tricks that will help stretch your travel dollars.
With just a few tweaks to how to book your vacation and being conscious of how you operate once you arrive, you could save hundreds, making travel more accessible, and just maybe, more frequent.
Author Bio: Johnny Jet has averaged 150,000 miles and 20 countries. He and his website JohnnyJet.com have been mentioned in major publications including USA Today, Fortune, and The New York Times as well as ABC, CBS, and NBC. Johnny hosted the TV special "Hot Spots 2012" on the Travel Channel. When he's not traveling the world, Johnny can be found at home in Los Angeles with his wife Natalie and their son Jack.