THIS POST MAY CONTAIN AFFILIATE LINKS. PLEASE SEE MY DISCLOSURES FOR MORE INFORMATION
You will rarely come across a person who doesn't enjoy good food.
America loves food, hence it doesn't come as a surprise that we tend to eat out a lot.
According to reports, about 56% of people dine out, get take out, or order home delivery three times a week.
About 10% dine out about 6 times a week, and 6% order food every day.
Even with this, a large number of people agree that eating out is expensive.
It costs $4 to prepare a meal at home, whereas it costs $13 to dine out.
Some simple math shows how dining out can quickly break your food budget for the month.
But this doesn't mean you need to stop eating out.
Also, you don't have to spend this much every time you go out.
There are many places that offer good food at great prices, allowing you to save money at restaurants.
In this article, we'll highlight some of the best places to eat out for cheap.
11 Best Places To Eat Out For Cheap Near Me
Benefits Of Eating Out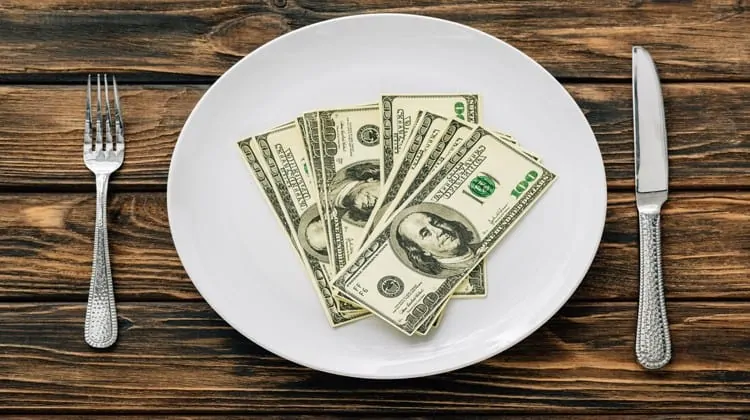 We know it's fun to eat out but that's not the only benefit.
Here are some reasons why you should continue to go out and have fun.
Flexibility. You are limited to what you have at home. You can choose the restaurant that offers exactly what you want, or even a nice variety of food from a large menu.
Mini Holiday. Eating out becomes a mini-holiday because you do not have to spend hours preparing a nice meal at home. You can visit a restaurant and fulfill your cravings.
Socializing and Bonding. Eating out strengthens bonds and gives friends and loved ones a chance to communicate.
Let's take a look at some of the best places to eat out on a budget.
#1. McDonald's
One of the best restaurants to get an affordable meal is McDonald's.
The fast food chain is popular for its juicy hamburgers, flavorful French fries, and of course, McNuggets.
But the real savings are with the Dollar Menu.
McDonald's has a special Dollar Menu that offers a wide range of fast food items to choose from.
You can easily get lunch or dinner for as low as $3, and that includes fries and soft drinks.
And if you skip the drink, you can get ice cream instead!
McDonald's does not disappoint when it comes to cheap meals.
The restaurant has a nice menu that includes a wide variety of drinks.
If you are concerned about finding a restaurant near you then do not fear!
McDonald's has more than 14,000 outlets in the USA and is enjoyed by both adults and children alike.
Children can enjoy delicious meals and have fun in the play area.
The restaurant also offers Happy Meals for kids, which come with a free toy.
Next time you are looking for a place to grab a bite, be sure to visit McDonald's.
#2. Chinese Restaurants
An often overlooked place to get cheap eats is your local Chinese restaurant.
The best time to go is lunch hours as they always have great lunch specials.
I can get Kung Pow Chicken for $4.95 and it's the same size as the dinner plate for $12.95.
Many even offer sushi night, allowing you to enjoy this expensive meal at a great discount.
#3. Burger King
If you want to save money eating out then consider paying a visit to Burger King.
You can get a decent meal for as low as $5.
Thanks to their special deals, you can get 5 fast food items for a low price of $4.
This meal includes a cheeseburger, fries, 4 pieces of chicken nuggets, a drink, and a cookie, because who doesn't love a good cookie?
All of this probably sounds bizarre, but it isn't when you go to Burger King.
There are about 7,000 branches of Burger King all over America.
Therefore, you will have no difficulty in finding a nearby branch.
In addition to the cheap menu, you can also score Burger King coupons to get even better deals.
About once a month I get a page full of Burger King coupons with the weekly sales fliers in the mail.
These coupons offer discounts on a full meal for a family and discounts if you don't need that much food.
While the place is popular among both kids and adults, it has a little extra for children.
It has a special menu for kids and each child can get cardboard crowns to feel royal.
#4. Olive Garden
Olive Garden is another great option when looking to keep the cost of dining out low.
They offer some of the best cheap Italian food around.
The restaurant has a huge menu that includes some of the most popular Italian dishes.
Olive Garden is popular for their great promotions and discounts.
If you time your meals right, you might set yourself up to eat out on a budget.
For example, take their Never Ending Pasta Bowl.
For just $9.95 you eat all the pasta you want.
And if you are smart, you will order and extra bowl, eat very little of it, and then take it home for leftovers.
When I was in college, this was my staple for dinner out.
Additionally, the restaurant is popular for offering free add-ons including dip sauces.
You can even get a slice of cake if it's your birthday.
All Olive Garden restaurants offer a unique ambiance. The brick exterior coupled with luxurious interior makes this place stand out.
It has over 800 outlets and the restaurant is known to offer value for money.
The restaurant has a special menu for kids starting as low as $1.
Olive Garden is a great Italian option if you are in the mood for some pasta.
#5. Applebee's
Applebee's finds itself on this list because of the special offers it markets.
I wouldn't recommend eating here otherwise.
For starters, they always have happy hour specials.
This can include discounted or even free appetizers which is a good deal.
Our local restaurant allows us to share small plates, as opposed to both myself and my wife ordering food.
On certain nights of the week, you can get a free kids meal when you buy a meal for yourself.
This is a great way to keep your total cost low.
#6. Chipotle
If you're looking for some Mexican restaurants to eat out at, the 3 time winner of the 'Best Mexican Casual Food' award might interest you.
That's right, the answer to all your Mexican food cravings is Chipotle.
What started as a small venture in Colorado in 1993 has slowly found its way to France, Germany and even Canada.
Chipotle is liked by everyone including a number of celebrities.
The restaurant is famous for its scrumptious tacos and bean salad but you will also find other dishes on the menu.
Want a little secret tip?
You can actually order off the kid's menu and save money eating out.
A kid's meal will land you two soft-shell tacos, rice, black beans, and a juice box for $5.
Chipotle restaurants are famous for their cozy atmosphere.
The room echoes with the laughter of people enjoying their meals. We think it can be a great place to enjoy with friends.
If you're lucky, and the queue is not too long, the waiters can actually make you a special 'quesarito', which is a quesadilla and burrito paired into a juicy wrap.
#7. Taco Bell
Fancy a bowl of nachos with a side of cheese and jalapenos for a special night out?
Visit Taco Bell.
Even if you have not tried Taco Bell already, you probably have heard of it as it's one of the most popular restaurant chains in the country.
Taco Bell is a special mix of Tex-Mex fast foods, a combination that is not available in many restaurants around the US.
Whether it's a filling serving of nachos, a crunchy taco filled with juicy fillings or a simple quesadilla, Taco Bell serves it all.
What puts Taco Bell on this list to save money eating out is their special Dollar Menu.
You can get food for as low as $1 and even create your own combo for $5.
If you're going for a combo then try a spicy potato textured soft taco, guacamole and chips, with a can of soda.
You'll come back to thank us for this suggestion.
Finally, Taco Bell is one of the restaurants that stays open late, so even if you have a craving late at night, you can still get a large quantity of food for a low price.
#8. Chick-Fil-A
Chick-Fil-A is my favorite restaurant.
With over 3,000 restaurants all over the US, Chick-Fil-A is one of the largest restaurant chains in the country
Chick-Fil-A sells a variety of chicken sandwiches. These sandwiches are healthy and delicious.
You are probably wondering, what's so special about a chicken sandwich? Everyone makes those!
Well, you'll be surprised to know that Chick-Fil-A is the founder of what we call the chicken sandwich.
The restaurant does not offer many options, hence go here only if you're craving chicken.
You can add their amazing waffle fries and sweet tea to enjoy a meal.
And their kids meal makes dinner out something that won't break the bank.
I recommend signing up with their rewards app as it is one of the best ways to get free meals.
Every time you dine at Chipotle, you earn points.
These points add up and allow you to get a free entrée, free drink or fries, or if you save up your points, a free meal.
#9. Jimmy John's
Here's another company offering sandwiches on a budget.
A 19-year-old started this as a hot dog stand and today Jimmy John's is among the most recognized food chains in the US with over 2,000 branches.
One visit to this incredible place will only cost you about $3. The most special menu item is the popular 'Slim-Jim'.
This delicious sandwich consists of roasted ham paired combined with fresh tomatoes, melted cheese, and lettuce.
It can be a good choice when you want a quick bite.
If you want a lower priced option then you can opt for 'Little John'. It's smaller but tastes the same.
#10. Little Caesars
Despite facing stiff competition from big names like Papa John's and Pizza Hut, Little Caesars has carved out a niche of good pizza at an affordable price.
You can get a large pizza for as low as $5 making it the place for the cheapest pizza.
However, we think it's best that you order Little Caesars at home instead of going out since most of the restaurants are take out only.
The few that offer dine in service doesn't have the greatest ambiance.
Of course, you have to be in the mood for pizza as this is all they sell.
#11. Subway

Surprised to see Subway here?
It might not be the most affordable option out there, but you can get a foot long sandwich for $5.
And with Subway being the largest franchise in the US, you will have no difficulty in finding a restaurant near you when you want to eat out.
The restaurant offers delicious meals that are known to be healthy.
You can choose from a variety of ingredients and customize your sandwich the way you like it.
Unlike some other options out there, Subway sells all veg sandwiches as well.
If you eat here frequently, it makes sense to join their rewards program so you can earn a free sandwich after spending a certain amount of money.
#12. Wendy's
Wendy's has many options that make it an essential part of this list of cheap restaurants.
Wendy's is essentially a fast food restaurant that caters to the entire family. You will find special deals for kids and adults.
Despite the low prices, Wendy's never compromises on quality or taste.
Most people who visit this place swear by the taste that has remained consistent throughout the years.
Thanks to their 'Everyday Value Menu' you can easily get your hands on a meal for as low as $3.
Look for Wendy's near you and you will easily come across a nearby branch.
The restaurant also delivers in all states.
#13. Diners
Up until now, we've been covering chain restaurants.
This is because these franchises tend to be nationwide, so finding these are easy.
In fact, I can do a quick search for restaurants near me and come up with most on this list.
But don't overlook diners and other local restaurants.
In fact, these cheap family restaurants tend to have the best deals, including specials every night of the week and even happy hour with discounted menu items.
If you decide to have dinner early, you could save money as many offer early bird specials.
This is mainly done to get older people in the door.
Some even have frequent dining cards where you get a free meal after buying a certain number.
Our local diners tend to have the lowest prices for the type food we would make at home.
So we favor these as we get to try similar to our own meals without spending much money.
Using Credit Cards To Save
One final tip is to look into credit cards to further reduce the cost of dining out.
There are many credit cards that offer big rewards and cash back at restaurants.
If you can find one for you, you could earn as much as 5% cash back or more.
While a one time use won't yield a lot in terms of savings, if you use the card all the time, the cash back will add up fast.
Click on the link below to find the best credit card for you.

What's Considered Cheap?
This is subjective but most people agree that a meal under $3 is cheap.
As seen above, we have covered a lot of establishments that offer meals under $3, however, you will have to spend more if you wish to enjoy combos or luxurious foods like steaks and seafood.
The best way to save money is to find special promotions and discounts.
Restaurants are known to offer discounts on regular prices, including 2-for-1 deals from time to time.
Additionally, you could consider an all you can eat buffet.
Just make sure you are smart about this.
The prices can be high if you fill up on drinks and food like pasta and pastries.
Keep an eye on for such offers so you can save money when dining out.
Wrapping Up
There is our list of places to eat out for cheap.
While fast food restaurants offer great value, don't overlook your local restaurants and diners.
In some cases, they can be less expensive through the many specials they offer.
At the end of the day, a quick search for restaurants near me is a great starting point to eating out on a budget.